The Next AMBER EFFECT Event Starts In
Cox & Palmer Atlantic Canadian Craft Brew Fest
For United Way
The Moncton Beer League and Cox & Palmer are proud to bring you the sixth Atlantic Canadian Craft Brew Fest November 6-7, 2020 to support United Way of Greater Moncton and Southeastern New Brunswick!
This event is produced by AMBER EFFECT EVENTS to showcase local Atlantic Canadian products including craft beer, cider  and food, all while raising funds for United Way during their 2020 campaign. United Way works to improve communities in Southeastern New Brunswick (Kent, Westmorland and Albert counties). It creates long-term, positive change; moving people from poverty to possibility, building strong communities, and ensuring that kids be all that kids can be. Working for over 60 years in Southeastern New Brunswick, United Way partners with 21 community agencies and helps fund more than 22 programs and initiatives to make this change possible. For more information, please visit http://www.gmsenbunitedway.ca/
This year's COVID-compliant #AtlanticBubble edition features three parts:
Friday, November 6, 6:30pm – 5-course Brew Dinner at Monk10
Saturday, November 7, 10am – Brewmasters' Breakfast at Monk10
Saturday, November 7, 6pm virtual Brew Fest in a Box live Q&A
So, gather your bubble friends at home, pick up your Brew Fest in a box, and have a party (subject to COVID-19 regulations). Your ticket includes 4 different beers or ciders along with all of the ingredients to prepare the accompanying foods for one person. With the magic of the internet, engage with other bubble parties, as well as our chefs and brewers online while preparing your food to sample with your box of brews.
There are 16 different brews for the Brew Fest in a Box tickets. Want to try them all? Purchase 4 tickets. Plus, you can purchase the VIP Add-on ticket to try a limited edition cider and 2 beers that are not available in stores! 
We get your feedback after every event, so we know that you love the social aspect of the #ACCBrewFest, as well as the opportunity to taste different products from Atlantic Canada and talk to the producers who make them!
Ticket sales are final. No refunds. Select merchandise available for purchase or bid in the silent auction (no ticket required).
Hilton Garden Inn at 40 Highfield Street, is offering a special nightly rate of $109+tx including WiFi and parking. Email [email protected] and reference the Atlantic Canadian Craft Brew Fest group before October 30th to guarantee your room.
Sponsored by Cox & Palmer, Forté Communication, 91.9 the Bend, and Taylor Printing Group Inc.
You want to know who is coming this year? Check back here or our social pages for updates each day leading to the fest!
Trider's Craft Beer
Route 19 Brewing
Brasseux d'la Cote
Graystone Brewing
Verger Belliveau Orchard
Les Brasseurs du Petit-Sault
Grimross Brewing
Acadie-Broue
Long Bay Brewery
13 Barrels Brewing
Two Islands Brewing Company
Boxing Rock Brewing Co.
CAVOK Brewing Co.
Four Rivers Brewing Co.
Yip Cider
Moosehead Small Batch
Holy Whale Brewing Co.
Garrison Brewing Co.
Spindrift Brewing Company
Degenhardt's European Sausage
Wolfhead Smokers
Cynsational Living with Epicure
Cooperative Ferme Terre Partagee
The Carefree Cakery
2020 Atlantic Canadian Craft Brew Fest Poster[/caption]Le Moncton Beer League et Cox & Palmer sont fièrs de vous présenter la 6e édition du Festival des brasseries artisanales de l'Atlantique, les 6 et 7 novembre prochain en soutien à Centraide de la région du grand Moncton et du sud-est du Nouveau-Brunswick.
Le Festival est organisé par AMBER EFFECT EVENT afin de promouvoir les bières, hydromels et cidres produits ici en Atlantique. Depuis le premier événement, les profits sont remis à Centraide de la région du grand Moncton et du sud-est du Nouveau-Brunswick. Il en sera de même pour l'édition 2020.
Centraide travaille à créer des changements positifs et à long terme pour les comtés de Kent, Westmorland et Albert. En faisant passer des gens de la pauvreté vers des possibilités, et en aidant les enfants et les jeunes à s'épanouir, Centraide crée des communautés plus fortes. Dans la région depuis plus de 65 ans, Centraide travaille conjointement avec 21 agences communautaires et aide au financement de près de 22 programmes et initiatives pour rendre le changement possible. Pour info, visitez le gmsenbunitedway.ca/fr/.
Cette année, notre événement respecte les règles de santé publique dictées par la COVID en présentant une édition #AtlanticBubble. Au programme:
Vendredi 6 novembre, 18 h 30 – Repas 5 services chez Monk10
Samedi 7 novembre, 10 h 00 – Déjeuner des maîtres-brasseurs chez Monk10
Samedi 7 novembre, 18 h 00 – Événement virtuel "Festival des brasseries dans une boîte"
Alors, rassemblez les gens de votre bulle chez vous, ramassez votre "Festival des brasseries dans une boîte" et faites la fête chez vous! Pour chaque billet, votre boîte comprendra 4 bières ou cidres différents et tous les aliments presque complètement préparés pour vous. Il ne vous reste qu'un peu de préparation et voilà, vous pouvez déguster!
16 bières ou cidres différents au total. Vous voulez tous les goûter? Achetez 4 billets et partagez. Les détenteurs de billets VIP recevront 3 bières ou cidres spéciaux en prime!
Comme nous recueillons vos impressions après chaque édition, nous savons à quel point vous appréciez l'aspect social de notre festival ainsi que l'occasion de goûter à différents produits faits ici en Atlantique et d'échanger avec les producteurs.
Par la magie du web, vous pourrez discuter avec les brasseurs, les chefs cuisiniers et même d'autres bulles tout en préparant la nourriture qui vous sera fournie pour accompagner les bières choisies spécialement pour vous!
Toutes les ventes de billet sont finales. Une sélection d'articles seront en vente.
L'hôtel Hilton Garden Inn, du 40 rue Highfield offre la nuitée au tarif spécial de 109,00 $ plus taxe, incluant le wi-fi et le stationnement.  Courriel [email protected] et indiquez que vous participez à l'ACCBrewFest pour profiter de cette promotion. Vos réservations doivent être faites avant le 30 octobre 2020.
Commandité par : Cox & Palmer, Forté Communication, 91.9 the Bend, and Taylor Printing Group Inc.
Suivez-nous sur Facebook : https://www.facebook.com/MonctonBeerLeague  ou Twitter/Instagram @MctnBeerLeague #ACCBrewFest
The Next AMBER EFFECT Event Starts In
Downtown Moncton ArtWalk
Community Event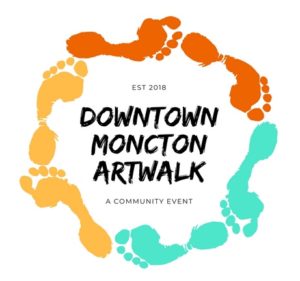 Due to Hurricane Dorian, the 2nd annual Downtown Moncton ArtWalk will now bring local art to businesses October 5th.  Picture this: for one Saturday, businesses in the Downtown Moncton area will be hosting artists and artisans in their stores, restaurants, hotels and will offer a unique opportunity for our community to visit each location all while viewing and supporting local artists – AND DID WE MENTION IT'S FREE FOR EVERYONE TO ATTEND?! As an added bonus, you'll also be able to sample local food and beverages during the ArtWalk by purchasing sample tokens on Eventbrite that can be redeemed at participating locations along the ArtWalk. (Please note, Alcohol can only be served after 11am.) Profits from the sales of tokens will be donated to an art student at McKenzie College in the form of a bursary. Our community helped us raise $460 for last year's bursary.
Our goals for this event are threefold:
To promote local artists and businesses

To inspire local businesses to display local art

To create a fun, cultural experience for the community
Here's how you can help:
Buy a package of tokens for yourself, your family, or your colleagues to enjoy samples of local beverages and food along the ArtWalk.  Exchange your Eventbrite tickets for the actual tokens at designated locations B (ACPR), F (Dixon & Patterson), H (Keatings) and L (MAGMA) Saturday morning beginning at 9:30am.

Register as a host, artist, vendor or volunteer

(deadline September 28)

. 
Click on the link https://downtownmonctonartwalk2019.eventbrite.com to reserve your spot today.
Pick up a passport and map at any of the participating host businesses October 5th and go for an ArtWalk! Get 14 stamps on your passport and return to a ballot box to win a prize! Have a preview here: 
Here is our full 2019 list of Artists (24) and Hosts (20):
Boutique 2ieme Look – Mathieu Hebert 
Atlantic Cell Phone Repair – Mike Parker
Razor's Edge Hair & Spa – Nicole Gauvin
Crowne Plaza – Bernadette LeBlanc & Yvonne Rowell
Euston Park Social – S&K Kreations by Scott Gallant
Dixon & Patterson Financial Planning – Ginette Melanson
TD Canada Trust – James A Inman & Sanyulk
Keatings – Chrystal Moynagh
Third Glass – Steph Wells, Steph's Fluid Art
My Home Mercantile – Lysanne Lombard
Mama's Restaurant – Mathieu Francoeur
The Multicultural Association of the Greater Moncton Area – Stephen R. Conrad
Piatto Pizzeria + Enoteca – Joanne Esser Energy Artist & Sarah Irving from Arrow Amor
The Old Triangle Irish Alehouse – Patricia Caissie Cavanaugh
Colpitts Menswear – Emilie Cormier
EastND – Alex Morningstar & Natasha Hache
Mexi's – Patrick Hardy
Namaste Spa – Sylvie Mazerolle
Pump House Brewpub – Danie Landry (Hey Buttercup)
The Comic Hunter – Jayden "withertamer" Moore