Acadie-Broue recently launched their new brewery in the Bar Le Coude at the Universite de Moncton Student Center and we were excited to attend. When FEECUM renovated the bar, they graciously built the new brewery for owner Patrice Godin in the back of the bar and Moosehead helped with the tap lines.
Finding the place was not too difficult due to Todd's Maritime Beer Report. The craft beer map took us right there. There is a fee to park on campus until 8pm, though. Once we walked in, it wasn't hard to find the bar – we just followed the noise to the sign in the lobby of the student center. We arrived at 5:30pm to a really good crowd – the place was packed.
Patrice had two brews on tap – La Benaise, 5% ABV, a Belgian-style pale ale, and La Bringue, an American-style brown ale. La Benaise was an easy-drinking pale with notes of bread, Belgian yeast and a little bit of citrus. La Bringue, 5% ABV & 33IBU's, was brewed with oatmeal, chocolate malt and lots of Amarillo hops for a nice mouthfeel and finish.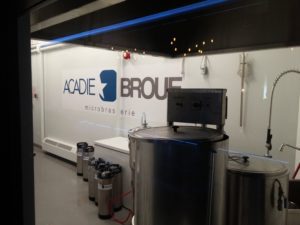 Both styles sold really well – 4 kegs in an hour – which had Patrice worried he might run out during the first evening. Patrice hired a new brewer to assist at this new location. He intends to produce about 12 kegs per week that will mostly be sold to Bar Le Coude, but a few kegs can be sold to other licensees depending on availability and demand.
We did a live interview with Patrice on site and you can still view it on the Moncton Beer League Facebook Page. The next beer Patrice brewed was a Kiebitz-Coti Berliner Weisse for the Altantic Canadian Craft Brew Oktoberfest.
This post was written as a guest post for the Maritime Beer Report.